History of Kaga Hashitate
The Kitamaebune ships were operated in the Sea of Japan connecting Osaka and Hokkaido. Kaga Hashitate is located right in the middle of the sea's economic artery. In the old days, it was a farming and fishing village with thatched farmhouses but many of the villagers were hired by merchants to become sailors. In the middle of the Edo period (mid-18th century), some owned their own ships and began trading. Since they hired their family members or villagers as sailors, the entire area developed as a hamlet related to the Kitamaebune.
Instead of thatched farmhouses, shipowners' mansions appeared. The Kitamaebune business brought building materials and techniques, which were used to construct the mansions that featured wooden fences, stone walls, and red tiles.
The afterglow of "Japan's wealthiest village"
Records indicate that as of 1809, there were 49 Kitamaebune shipowners in Kaga Hashitate, which amounted to half of all households in the area. Huge sums of wealth flowed into the small hamlet, which later became known as "Japan's wealthiest village."
However, as modes of transportation modernized in the 20th century, there was a rapid decline in trade by the Kitamaebune ships. While some shipowners started new businesses and became successful, many failed to switch their businesses.
Kaga Hashitate retains its unique landscape as a home of the Kitamaebune. In 2005, it was designated an Important Preservation District for Groups of Traditional Buildings. There are dozens of shipowners' mansions even now, enabling you to peacefully follow the tracks of their dreams.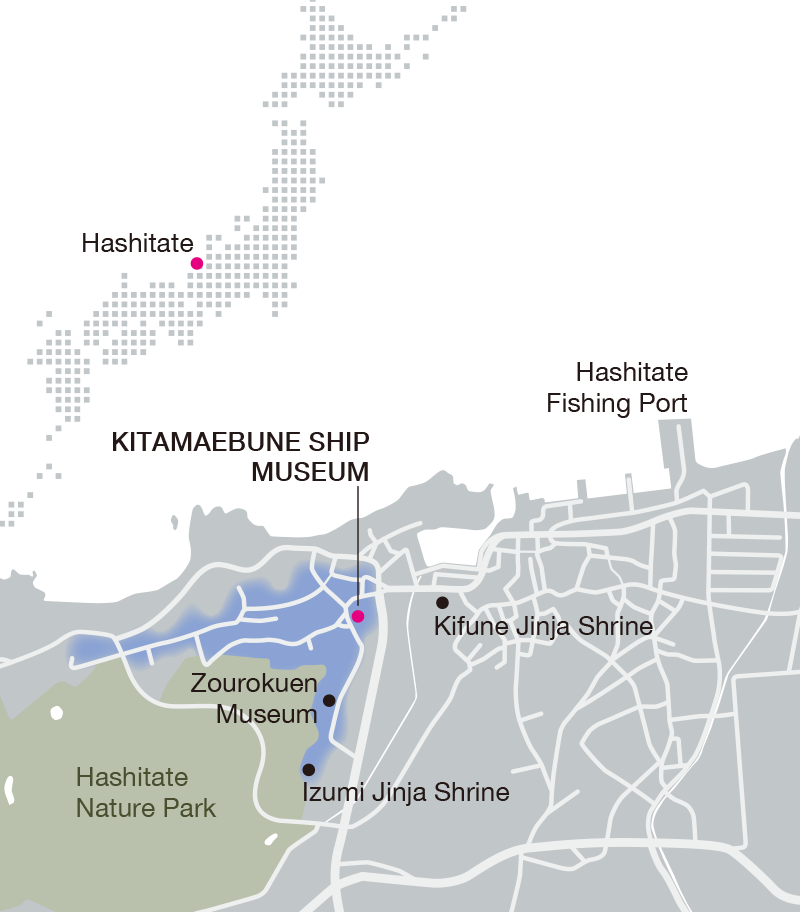 【The scenery of the town】
The undulating landscape is dotted with dozens of shipowners' mansions. The subtle red tile roofs blend into the rustic town.

The shipboard covers the building to protect it from the breeze that blows from the Sea of Japan. It was originally the wood installed at the bottom of the ship.

Shakudani stones, which are used for stone walls and steps, are mined in neighboring Fukui Prefecture. They used to be loaded at the bottom of the ships as ballast to stabilize them. The stones turn misty green when wet with rain.